YHWH your Elohim will raise up for you a prophet like me from among you, from your fellow Israelites. YOU MUST *** LISTEN TO HIM *** (we are told not to listen to Moses by Moses himself. Moses pointed to the Son. The Son did not point to Moses).
DEUTERONOMY 18:15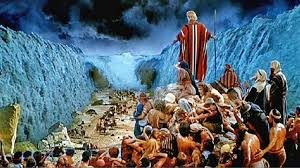 LET ME SHARE A MAJOR LIGHTBULB MOMENT OF MINE WITH YOU REGARDING THE MOMENT THIS VERSE HIT ME LIKE 'A TON OF BRICKS' THROUGHOUT THE PROCESS OF OUR ASSEMBLY OF THE CHRONOLOGICAL COVENANT PLAN OF YHWH

(the foundation of scriptural interpretation)

.

There is a chronological covenant plan of YHWH we have discovered the basis of interpretation of all the authors of scripture. I will be explaining a bit of our discovery in this article.
How important is this verse to you right now (

Deuteronomy 18:15

)? Here is Peter quoting this verse on the day of Shavuot

(Pentecost)

:
For Moses said, 'YHWH your Elohim will raise up for you a prophet like me from among your own people; you must listen to everything he tells you. Anyone who does not listen to him will be completely cut off from their people.'

ACTS 3:22-23
Without doubt this PROPHET YHWH was speaking to Moses about who would come 1500 years later named Yahushua Messiah to die and "pay for the sins committed under the first covenant" (

Hebrews 9:15

). What we have discovered through intense detail is that this
"first covenant"

is actually what scripture labels as

"the Law of Moses"

which made Moses

"LAWGIVER"

(that's why scripture calls it the

LAW of –>> MOSES

)

. The purpose of this article is to drive you to the critical knowledge of the TIMING of this verse which places Moses being told this statement of

"the Prophet to come after him"

being on the 4th trip up Mt Sinai… just before the alternative covenant arrangement made with Abraham's descendants on his 7th trip

(the Law of Moses)

due to their breaking of the blood covenant they had just entered with the sin of the golden calf. For more information please read on the Topic as "7 trips of Moses" and "the 7th trip up Mt Sinai" PDF (Link here.)
Right before
Acts 3:22-23

Peter states that it is only by emunah/believe in His name that we can repent for our sins and be saved, which being "saved" is also coming into the New Covenant. The audience of the "first covenant" was "under the law" which was "THE LAW OF MOSES
This is a very important verse to make a connection to the "Old Testament", but just wait as you continue to read and I place it into the timeline of our story of scripture of "WHEN" and "WHY" this was told to Moses. I hope the lightbulb will turn on brighter for you as well and you study along with us in examining the covenant puzzle pieces.
If you are like me this verse was always an important one. The moment I received complete illumination of context and placed the verse at the proper time Moses was told this on our chronological covenant storyline, the verse went from

"important"

to

"the most amazing connection of the new testament and new covenant anybody can imagine finding

".
Placing this verse into the story at the right time shows us how the COVENANT PLAN was put on "PAUSE" @ Mt Sinai for 1500 years until the Prophet came. I will explain what I just shared with you.
THE "BIG PICTURE" ———————ADAM TO MT SINAI
The timing of when Moses was told: "YHWH will raise up a Prophet to come after Moses"
6000 years ago:
Adam breaks his covenant and is removed out of the garden
(the presence of YHWH).

Curses are given as result. The SEED of the Woman is promised would come

(who would also be this Prophet to come after Moses).

THERE IS NO COVENANT WITH MAN FOR 1692 YEARS, RESULTING IN THE FLOOD
1692 years later:
Yah enters COVENANT with Noah
(The SEED of the woman and ancestor of the Prophet to come after Moses)

to purge the world from wickedness and

BEGIN A BRAND NEW PLAN

ushering in new changes. Noah obeys his covenant by building an ark and saving his family.
367 years later:
YHWH enters COVENANT with Abram
(the SEED of the woman and ancestor of the Prophet to come after Moses)

to give LAND to his descendants immediately after Abram first believed in the promise that YHWH would give him descendants.'
THE TERMS OF THIS COVENANT

(this becomes HUGE knowing these TERMS for this post as THE TIMING IS 400 YEARS FROM WHEN ABRAHAM HAS A SON)




1)

His descendants (which he doesn't have even a son yet) would become enslaved
in a country not their own for 400 years
2)

YHWH would deliver them and punish that nation (this nation would become
Egypt)
3)

They would come out with great possessions
4)

At the time of the sin of the Amorites reaches its full measure
430 years later

…
THE TERMS ABOVE ARE FULFILLED TO THE DAY AT MT SINAI AS PLANNED ~
until… something happened
24 years later:
Abraham
(still with no son)

is guaranteed that he would now have a son within one year and names him Isaac. YHWH promises to enter covenant with Abraham's descendants.

(THIS COVENANT IS WHY THEY GO TO MT SINAI TO GET MARRIED TO YHWH, TO ENTER COVENANT WITH HIM)
430 YEARS LATER TO THE DAY OF THE COVENANT WITH ABRAM HIS DESCENDANTS LEAVE EGYPT AND ON THEIR WAY TO ENTER COVENANT WITH YHWH.
MOSES END UP MAKING SEVEN TRIPS UP MT SINAI
(
IMPORTANT NOTE:
Moses was only supposed to have made THREE TRIPS to complete the COVENANT but ends up making SEVEN as they leave Mt Sinai with a drastically different covenantal arrangement as
they forfeited by their actions
the first "OFFER" to become a Kingdom of Priests and Kodesh Nation)
SUMMARY OF

"WHY"

MOSES WENT UP SEVEN TIMES
TRIP 1

~
Moses receives the
COVENANT OFFER

to go back down the mountain and ask the people if they would like to say "yes":
"I will make you:
a Kingdom of Priests, a Kodesh Nation, and My special treasured possession
"IF" 
The condition of them receiving the covenantal benefits of the "OFFER"
"IF" you obey My VOICE and Keep My COVENANT
TRIP 2 ~
The people said
"we will do all YHWH will say"

.

Moses goes up trip 2 to bring the

ACCEPTANCE

from the people back to YHWH and told to prepare the people on the 3rd day and when they hear the trumpet blast

come up the mountain:
ENTER THE STORY ~ ———————–THIS IS NOT A THEOLOGY BOOK!
THE THIRD DAY ARRIVES:
On the morning of the third day there was thunder and lightning, with a thick cloud over the mountain, and a very loud trumpet blast.
Everyone in the camp trembled
. Then Moses led the people out of the camp to meet with Elohim, and
they stood at the foot of the mountain
. Mount Sinai was covered with smoke,
because YHWH descended on it in fire
. The smoke billowed up from it like smoke from a furnace, and
the whole mountain trembled violently
. As the sound of the trumpet grew louder and louder, Moses spoke and the voice of Elohim answered him. YHWH descended to the top of Mount Sinai and called Moses to the top of the mountain.
SO MOSES WENT UP
(THIS IS TRIP 3)
EXODUS 19:16-20
TRIP 3 ~
Moses went up after YHWH called Moses up. The people were supposed to go up with Moses but were afraid
(understandably right?):
(Moses recanting the event 40 years later) YHWH spoke to you face to face out of the fire on the mountain. At that time I stood between YHWH and you to declare to you the word of YHWH,
because YOU WERE AFRAID OF THE FIRE and DID NOT GO UP THE MOUNTAIN
.

DEUTERONOMY 5:4-5
So, the people do a
"no show"

on trip 3 because they were afraid and did not go up with Moses to receive THE TERMS OF THE COVENANT as first schedule. This moment right here is the moment in time when they will be given a

'spokesperson'

to approach YHWH's presence on their behalf

. You may know this position of 's

pokesperson'

as the '

religious'

term of

HIGH PRIEST

! That's all the High Priest was ~ the people's representative.
Aaron is nominated by YHWH as their
'

spokesperson'

,

and will become their

HIGH PRIEST,

because the people were too afraid to go up the mountain and approach closer.
YHWH replied, "
Go down and bring Aaron up with you
. But the priests and the people must not force their way through to come up to YHWH, or he will break out against them." So Moses went down to the people and told them.
EXODUS 19:25
AT BOTTOM OF THE MOUNTAIN
Remember the 'OFFER' of the COVENANT:
"IF" you OBEY My VOICE

and Keep My COVENANT
YHWH ***SPOKE***

(with His VOICE)

————————–

HIS TEN WORDS

(improperly translated as 'COMMANDMENTS')
PAY CLOSE ATTENTION TO THE PEOPLE'S RESPONSE:
When the people saw the thunder and lightning and heard the trumpet and saw the mountain in smoke,
they trembled with fear
. They stayed at a distance and
SAID TO MOSES
, "Speak to us yourself and we will listen. But
DO NOT HAVE ELOHIM SPEAK TO US
or we will die." Moses said to the people, "Do not be afraid. YHWH has come to test you, so that the fear of YHWH will be with you to keep you from sinning." The people remained at a distance, while Moses approached the thick darkness where YHWH was.
EXODUS 20:18-21
Do you see this was NOT part of the original plan? THE PEOPLE
REJECTED HIS VOICE

COMPLETELY AND TOLD MOSES THEY WILL LISTEN TO HIM INSTED! So, the offer was to OBEY His voice and

they rejected hearing His voice

completely.

(upon Moses' 5th trip they would eventually also break His covenant and grossly disobey His instruction with the sin of the golden calf)
It is essential you see this moment in history was an insurmountable problem that the people needed to be changed by being 'born again' and the writing of the Ten Words
(the Covenant)

on their hearts and minds. When Hebrews 8:8-10 is quoting the New Covenant, verse 9 restates where this problem first occurred with a continuous disobedient people:
It will
NOT BE LIKE the covenant I made with their ancestors when I took them by the hand to lead them out of Egypt
, because they did not remain faithful to my covenant, and
I turned away from them
, declares YHWH.
HEBREW 8:9
Notice the verse right before very closely:
For if there
had been nothing wrong
(WHAT WAS WRONG??) with that first covenant, no place would have been
sought for another
. But Elohim
FOUND FAULT WITH THE PEOPLE
(WHAT WAS WRONG WAS THE PEOPLE NEEDED TO BE CHANGED!!)
and said…
HEBREWS 8:7-8
THE PEOPLE NEEDED TO BE CHANGED.

This right here in our storyline @ Mt Sinai is where YHWH knew that the people needed to be changed as they were too afraid to stand before Him. This is when there ABSOLUTELY needed to be a "NEW COVENANT" to arrive in the future… writing the covenant laws, the Ten Words on hearts and minds, and giving the Spirit of His Son inside their very bodies… to DWELL WITH THEM.
This… is…. THE PROPHET LIKE MOSES THAT WAS TOLD WOULD COME…
When was
Deuteronomy 18:15

given Moses? Remember I shared with you in the beginning

the LIGHTBULB moment

that occurred to me as we were pegging all scripture to a TIMELINE and assembling the puzzle.

I COULDN'T BELIEVE WHAT I FOUND!!!

This verse jumped off the page and into my heart a few years ago by placing it in the right moment in time. Let's look at Trip 4 now which Moses took…
BACK TO TRIP 4
(remember, the people had been too afraid to go with Moses up the mountain on Trip 3
so Moses goes alone and YHWH then tells Moses to bring Aaron up on his next trip
,
which is trip 4 we are going to look at now
. Instead of the covenant terms, the Ten Words, being spoken while they were in His presence YHWH waits until Moses goes back down the mountain after trip 3 when he with the people to speak His covenant.
THE ENTIRE CONGREGATION REJECTS HIS VOICE COMPLETELY.
We know Aaron did become High Priest, the spokesperson for the community, upon trip 5 instructions and instituted after the building of the Tabernacle to keep the presence of YHWH away from the fearful people. I am not going to go past trip 4 here in detail. Please see full article for all 7 trips here: http://man-child.com/?p=3638 
Moses goes back up on his 4th trip up Mount Sinai as the people rejected YHWH's voice, His Ten Words. They wanted to hear Moses' voice instead so Moses becomes mediator and then eventually "LAWGIVER" (i.e. The Law of –>> Moses) on trip 7 after they worshipped the golden calf. For the singlemost important scriptural phrase: THE LAW OF MOSES to understand please read this article which zooms in at the granular detail surround trip 7: http://man-child.com/?p=3638
Right here, on Trip 4, is what was told Moses upon coming up

after the people rejected His Voice

… the turning point in the entire story of scripture as the timetable began counting a 1500 year period where the Prophet to come after Moses must come:
(Moses recanting what was told him forty years earlier)

YHWH your Elohim will raise up for you a prophet like me from among you, from your fellow Israelites. You must listen to him.

(PAY ATTENTION CLOSELY: THIS IS WHAT THE PEOPLE SAID TO MOSES AFTER HEARING THE TEN WORDS) For
this is what you asked of YHWH your Elohim at Horeb on the day of the assembly
when you said, "
Let us not hear the voice of YHWH your Elohim nor see this great fire anymore, or we will die
."
DEUTERONOMY 18:15-16
NOW LOOK AT THE RESPONSE YHWH GAVE TO MOSES OF HEARING THE PEOPLE'S REQUEST:
(next verses) YHWH SAID TO ME:
"What they say is good.
I will raise up for them a prophet like you from among their fellow Israelites
, and I will put my words in his mouth. He will tell them everything I command him.

DEUTERONOMY 18:17-18
My brothers and sisters, do you realise "WHY" the word became flesh

(in man's likeness)

and DWELT amongst us? Because in the flesh there is nobody who can stand in His presence so the Son stepped down from His heavenly position to be born of a baby, show us how to walk out the covenant the Ten Words, and then died for us sending His Spirit to dwell inside of us… as our helper!
Those at Mt Sinai did NOT have a 'Helper', the Spirit of Truth. It breaks my heart that Torah people, all because they have been misled by defining the phrase "Law of Moses" as "first five books of Moses", do not make the connection that ALL OF SCRIPTURE, the Law and the Prophets as He said in
Matthew 5:17

was written

as He truly fulfilled them

! Isn't that what Moses was told by YHWH on trip 4 here?
YHWH your Elohim will raise up for you a prophet like me from among you, from your fellow Israelites.

YOU MUST LISTEN TO HIM.

DEUTERONOMY 18:15
THE PEOPLE IN THE FLESH ASKED TO LISTEN TO MOSES' INSTEAD OF YHWH'S VOICE.
Do you see the problem clearly now in not defining
"THE LAW OF –>> MOSES"

correctly? Satan has propagated this grievous error of definition of this most important phrase in all of scripture to have these Torah people not LISTEN TO THE VOICE OF THE ONE TO COME AFTER MOSES. We aren't supposed to listen to Moses voice. This is exactly what the Son said, yet Torah people read this verse right here thinking the Son was supporting Moses. No! It's the other way around, just like Moses was told.
If you believed Moses

, you would believe me,

FOR HE WROTE ABOUT ME

. But since you do not believe what he wrote, how are you going to believe what I say?"

JOHN 5:46-47
Look very closely here: even many non-religious people understood how to interpret "the Law"
(the Law of Moses, first covenant)

. They just did not know the Prophet to come after Moses was going to die! Nobody knew that part.
The crowd spoke up, "

We have heard from the Law

(Law of Moses, first covenant)

that THE MESSIAH WILL REMAIN FOREVER

, so how can you say, 'The Son of Man must be lifted up'? Who is this 'Son of Man'?"

JOHN 12:34
It's all about our
'spokesperson'

, High Priest, who goes before us in the heavenly realm… the volume of the Book is written of Him.
Then I said, 'Behold, I have come—

In the volume of the book IT IS WRITTEN OF ME

— To do Your will, O Yah.'"

HEBREWS 8:7
He is the ONLY one who could stand for us in the heavenly tabernacle because He is THE ONLY one who kept His Father's covenant, without sin! To then… empower us to keep His covenant. When you study this covenant foundation we are trying to help teach you, you will see that the entire New Testament writings and its interpretation sits upon knowing what occurred here at Mt Sinai.
Look at this comparison between Mt Sinai and the One who came from above as the Prophet to come after Moses to mediate a New Covenant in His blood:
(with the background I have just described in this article I hope this explodes with new meaning to you!)
For you have not come to the mountain that may be touched and that burned with fire, and to blackness and darkness and tempest, and the sound of a trumpet and the voice of words, (THE FIRST COVENANT)
so that those who heard it begged that the word should not be spoken to them anymore.
(For they could not endure what was commanded: "And if so much as a beast touches the mountain, it shall be stoned or shot with an arrow." And
so terrifying was the sight that Moses said, "I am exceedingly afraid and trembling.

"
But you have come to Mount Zion and to the city of the living Elohim, the heavenly Jerusalem, to an innumerable company of angels, to the general assembly and body of MessiYah of the firstborn who are registered in Shamayim, to Elohim the Judge of all, to the spirits of just men made perfect, to
Yahushua/Messiah the MEDIATOR OF THE NEW COVENANT
(THE PROPHET TO COME AFTER MOSES WE MUST LISTEN TO)
,
and to the blood of sprinkling that speaks better things than that of Abel.
See that you do not refuse Him who speaks.
(HERE IS THE ENTIRE POINT OF THE NEW COVENANT. WE MUST OBEY AND LEARN FROM THEIR DISOBEDIENCE OR WE FIERCELY GET JUST WORSE THAN EVEN THEY DID)
For if they did not escape who refused Him who spoke on earth, much more shall we not escape if we turn away from Him who speaks from heaven
, whose voice then shook the earth; but now He has promised, saying,

"Yet once more I shake not only the earth, but also heaven."

Now this, "Yet once more," indicates the removal of those things that are being shaken, as of things that are made, that the things which cannot be shaken may remain.

Therefore, since we are receiving a kingdom which cannot be shaken,
let us have Favor/grace, by which we may serve Elohim acceptably with reverence and fear.
For our Elohim is a consuming fire.
HEBREWS 12:18-29