Turn us again, O Elohym, and cause thy face to shine; and we shall be saved. ~ Psalms 80:3
 Original article can be found on www.withoneaccord.org   By 
Dr. William and Mary Schnoebelen.
Prayer changes us profoundly. As we seek to know Abba Father through our Saviour Yahushua – we are changed. Like a child we rest in Him. Allow Him access to all those forgotten, wounded and murky places so well guarded… until that time when His Set Apart Spirit (Ruach HaKodesh)turns us again, and brings His fire and Light to wash us with the Living Waters of redemption. It's so miraculous, the transformation that takes place!
We are forever changed. Our spirits transformed in one glorious, eternal moment. This spiritual growth is promised to us and expressed both explicitly and with metaphor throughout Scripture! Our spiritual armour becomes more perfect in Yahushua, our hearts are strengthened. We step deeper into relationship with Him and He shows us, through His Presence and His Word, the awesomeness of Yahuwah. But inevitably, struggles come to test us (many times through family and friends!), and we realize there is SO MUCH MORE we need to learn. Because HE IS SO MUCH MORE. So, how do we fulfill our destinies and move deeper into relationship with Him? 
COMPASSION & THANKFULNESS.
And he took the seven loaves and the fishes, and gave thanks, and brake them, and gave to his disciples, and the disciples to the multitude. Mt 15:36
The feeding of the multitudes strikes a chord in my heart. For me, the Gospel of Matthew, Chapter 15, is incredibly touching…because Yahushua Messiah, King of the Universe, demonstrates His profound love for starving souls AND for the Father by giving thanks – even when there was little to share. While it is true this passage has volumes more to teach us, let me just say that it is Yahushua's love and compassion that brings all these lessons together.
But consider this: After He healed, delivered, preached and journeyed, yet before His great miracle of feeding the thousands…He prayed and gave thanks. Thanks for what and WHO was there, waiting to be transformed in that dry arid place; He saw a miraculous, nourishing food for thousands of people seeking His truths, His Presence, spring to life before the Throne before there was earthly evidence. Seeing the situation with His eternal vision, He knew what would come. He trusted the Father. He had trust in HIM. And so we must follow His lead.
It's true most of the world is consumed with greed. But there is so much suffering and need, too – this is a difficult lesson for our hearts to comprehend. But Yahushua will reveal His plans when we ask for HIS compassion – and we begin to feel and know His love for His children…that's when thankfulness can bring us into His Presence with praise! Burdens are lifted, and nothing really matters but Him. It's all about Him. This is where MIRACLES are forged in the Fire!
This was a revelation for me some years ago during a very difficult time in my life, when I was poor, single, isolated and facing tremendous persecution for my faith in the workplace. BUT YAHUWAH! I remember how one weekend as I cried out to Him, devastated by an especially brutal week…Then, HE spoke to me and showed me the pain and suffering of my tormentors. Devils ruled over them. I began to see the situation through His eyes more clearly, and an anointing fell on me to pray for their deliverance and salvations in new, powerful ways. The strongholds of the enemy began to fall; Confusion blanketed their camp. My co-workers had no experience to measure against this kind of unrelenting, joyful compassion that was not mine – but His. They didn't have a clue how to deal with it. He turned me again supernaturally, and many were infuriated by my joyful countenance! They wanted me sad and angry, like they were! But THANKFULLY, a few precious souls saw the compassion and were forever changed when I spoke to them of Yahushua, and this blessing ignited such passion within me for our King that I would never see abuse, hate and selfishness the same way again. I found a deeper understanding of His love for those who called me their enemy:
But I say unto you, Love your enemies, baruch them that curse you, do good to them that hate you, and pray for them which despitefully use you, and persecute you; ~ Mt 5:44
Dear Ones, your witness at home and in the workplace, at the gym, during your travels…just might change someone's eternity! The need is great but the laborers are few…every time we encounter another soul it can make a HUGE difference. THANKFULLY, some are willing to intercede and make sacrificial gifts for His Kingdom to 'feed the multitudes.' We are so thankful for each and every prayer you pray for With One Accord Ministries and for us!
Thankful for your notes of appreciation, love and support. Thankful for every dime we receive that keeps the ministries of WOAM going! Some days we find ourselves with only small morsels to share…BUT YAHUWAH! With His compassion and the power of the Ruach haQodesh (Holy Spirit) those baskets are miraculously filled – and the lives of hundreds and even thousands are touched with Yahushua's deliverance and healing. One soul at a time. HALLELUYAH!
As you stand with us as intercessors and prayer warriors against the tide of humanism and outright evil flourishing today, we THANK YOU SO MUCH DEAR BROTHERS & SISTERS IN YAHUSHUA! You are holding us up when the spiritual warfare is at its worst and our finances at the breaking point. We love you so much in Messiah Dear Friends!
You, our Friends & Partners, make all we do possible. THANK YOU! May Yahushua baruch you all during this festive Season of Lights… And please, we ask that you pray and financially support us so together, we can do His Work! Some day in that great heaven we will see and know the profound eternities Abba worked through our submission to His commandments – His compassion and His baruched Ruach haQodesh. Shalom!
YAHUWAH baruch thee, and keep thee: YAHUWAH make his face shine upon thee, and have favor/be gracious unto thee: YAHUWAH lift up his countenance upon thee,?and give thee shalom. And they shall put my name upon the children of Israel; and I will baruch them. ~ Num 6:24-27
Prayer for Yahuwah's Dimensional Deliverance
 Introduction 
Through Emunah/believe we understand that the worlds were framed by the Word of Yahuwah, so that things which are seen were not made of things which do appear. ~ Hebrews 11:3
Originally, Ruach gave this prayer to us as a means of Dimensional Deliverance from Rituals and satanic attack. But thrust into several horrendous spiritual battles during October 2014, Ruach led us to begin praying a variation of the prayer for difficult and demon-filled situations AND people. It has had huge impact on everything from schisms caused by actual abuse, to satanic attack, to spiritual or phantom/dream events such as fallen angelic rape.
This is the original prayer which had huge positive impacts for satanic ritual abuse victims. THIS IS A WEAPON OF SPIRITUAL WARFARE!
All Prayers on With One Accord Ministries' website and all written materials, videos, radio programs and all other communications, teachings and resources are the sole property of With One Accord Ministries and Dr. William and Mary Schnoebelen. All rights reserved.
YHWH Prayer for barukata our Soul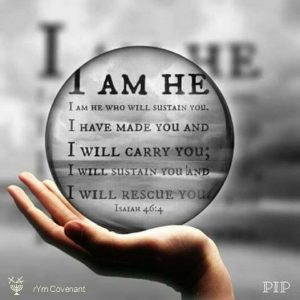 Yahuwah abides in all time and dimensions (the basis of repentance/ Teshuvah), and He is the author and finisher of our faith through His Word! Hence, this prayer can be prayed for events of the past, present and future (to implore for His Mercy and for Him to change outcomes before an evil act is even committed). REMEMBER: We are ASKING YAHUWAH to do these things for us as His Set- Apart children – because only HE abides eternally and is able to move freely within and without the dimensions. He created them, us, and all our spiritual being to one day abide WITH HIM and His Son, Yahushua the Messiah. This is a serious spiritual warfare prayer Ruach haQodesh wants us to share with YOU:
Abba Father, You are the Creator of all Times, Worlds and Dimensions. By You all things were made that were made. In the Name of Yahushua ha Mossiach Your Son, Yahuwah come in the flesh, I ask You to change all evil intent forged against me throughout all time, space and dimensions.
Please Father, remove any and all of the enemies' power to manipulate, control, violate or corrupt me (or name others) and destroy our lives and/or loved ones through violation in any time or dimension! I especially pray for protection, anointing, and deliverance from defilement in my/our[Name SPECIFIC or GENERAL areas such as sleep, dreams, patterns or ways of thinking, bodies, spiritual gifts, home, job site, travels, etc.] by the destroyer, ha satan, his minions and all enemies of YAHUWAH.
Please Abba Yahuwah, In Yahushua's Name, have mercy on us and change where the Dimensions join together right down into our physical brains and bodies, souls and spirits, according to YOUR Righteousness! Change me, all those named, and these places and times, timelines, times and seasons concerning our lives into something for your Kabod (glory)! Annihilate the enemies' plans and let your mighty Malakim (angels) raise their swords and shields to vanquish them. Make them to fall into the pit they devised for us! Abba, if any human beings are involved in these defilements and cursings, please let them be saved, redeemed and transformed by the Name and the Blood of Yahushua Messiah! Please Abba Yahuwah, transform us all through Your Set Apart Dabar (WORD of) Yahuwah, and Yahushua's Blood, Resurrection, Ascension and Second Coming into Your sanctified, set apart, Ruach-filled children; Forgive us for any sins we might have committed that give the enemy opportunity, and please change all evil outcomes of unrighteousness intent or actions, words or cursings made by others or by me, both willingly and unwillingly – into an everlasting Praise for You, a blessing for us and for Your people.
I PRAY that all these Times and Dimensions, known and unknown, be turned again toward You and Your Living Torah – and ask You, YAHUWAH, to send Your KADOSH (holy) Light and the FIRE of Ruach HaKodesh through us all. Please! Send YOUR DABAR YAHUWAH (WORD) through any dark CIRCUMSTANCES and PLACES, and turn them into what You want them to be for Your Purposes.
Finally Abba Father, please seal off anything evil or religious coming against us according to Your Merciful Will. Surround us with Your Name, YAHUWAH – and the Name of Your Divine Word COME IN THE FLESH, YAHUSHUA, from In the Beginning and for all Time. Set us Apart to the eternal Kabod (glory) of Your Ineffable Name – YAHUWAH – and please write Your Name upon our foreheads and in our hearts forever – equip us to serve you in every aspect of our lives! In Yahushua ha Mossiach's Precious Name we pray, OMAYN!
COMING SOON! We will be releasing Dr. Bill's NEW DVD Teaching 
DIMENSIONAL DELIVERANCE for more in-depth information and teaching on this advanced Spiritual Warfare Weaponry!