以Isa 

49:12

 看哪,這些從遠方來;這些從北方、從西方來;這些從秦(原文作秦吶Sinae)國來。
In reference to the Qin Dynasty, the Scriptures reference such:   Isa 49:12: "Behold, these shall come from far: and, lo, these from the north and from the west; and these from the land of Sinim." –which is land of Qin.    https://www.youtube.com/watch?v=dc24ElTwh4s 
Standing at the magnificent and historic Great Wall of China (built by the emperor Qin Shi Huang during the Qin dynasty 260 BC-210 BC), this video reveals the divine mission of this most important information regarding the Lost Tribes of Israel pursuant to their travel along the Silk Route through ancient Persia, modern day Afghanistan and India, integrating into the Chinese culture and population approximately 800 years before the birth of the Messiah Yahushua. Traces of some ancient Jewish rituals have been observed in some places.
More than two thousand years ago from today, and due to subjugation especially from Syria, a very large number of the 10 Tribes from the Northern Kingdom of Israel, eventually settled in the Central Plains of China, assimilating and flourishing into the Chinese culture, becoming one of them. For example: During the Ming Dynasty (1368–1644), a Ming emperor conferred seven surnames upon the Jews, by which they are identifiable today: Ai (艾), Shi (石), Gao (高), Jin (金), Li (李), Zhang (張), and Zhao (趙); significance of the original seven Jewish clan's family names: Ezra, Shimon, Cohen, Gilbert, Levy, Y'hoshua, and Yonathan, respectively
In short, portions of the Chinese people of today and the Jews (Yahudim of Israel) are actually connected through their bloodline as lost brothers dating back over this period of thousands of years, as well as by the Ruach [Galatians 3:18, 29]. Hence, all have the same promise of YAHUWAH as the seed of Abraham.
However, through the course of events over this same time, these tribal members and their offspring lost sight of the truth and significance of their lineage as brothers in YAHUWAH. Here, we are referring to the mysterious "disappearance of the ten tribes of Israel," those who have been found to have resettled in China.
The location of these lost 10 Tribes has long been held as an enigma in Israel's history. In the case of China, according to archeological records found inscribed on a large stone tablet, by the decedents of these people in the City of Kaifeng, China, their ancestors' footsteps in China can be traced as early as the Shang Zhou Dynasty prior to 1000 BC However, this may not refer to the migration of Jews necessarily, but simply that there is a relationship dating to this time period.
In reference to the Qin Dynasty, the Scriptures reference such: Isa 49:12: "Behold, these shall come from far: and, lo, these from the north and from the west; and these from the land of Sinim."
(Scholars associated Sin with China, the root word of Sinim, Sinae resembling the Latinization of Qin, after the Qin (state), founded 778 BC and Qin dynasty, founded in 221 BC by Qin Shi Huang-Di. At the time of the prophecy there was no one China, but many small states.)

Throughout the history of China, wars, insurrections, and civil unrest were common and destroyed much of the historical evidence, especially under the emperor Qin Shi Huang, a totalitarian despotic ruler who was the first emperor of the Chin Dynasty. To protect his position and power base, he confiscated and burned most or all books that could have shed some light of this period of Chinese civilization, murdering huge segments of society that were both educated and regarded as scholars of their day. Given the carnage of this period, many witnesses to this account destroyed any evidence of their link to their heritage or anything that would bring to themselves immediate death to themselves , their families, and their clan. After Qin, there were other emperors that served to employ the same method of terrorism against their opposition, costing a further expenditure of many innocent lives. In modern Chinese history, the Cultural Revolution under Mao Zedong regime is a prime example, destroying a huge segment of valuable historical documents, books, and other information.
So unexpectedly, referring to the historical event of the "burning of books" during the Qin Dynasty, the recorded evidence of the connection between the two countries of Israel and China was destroyed or lost. However, hints of this unique heritage and connection in history still remain, waiting to be uncovered through more research.
Therefore, let the ashes and the cries of the ground speak forth. Listen (Shema). YAHUWAH is calling His lost sheep back to the Covenant of the House of Israel [Matt 10:6; 15:24; Luke 15:4, 6].
二千多年前,因著亡國,極大量的以色列人流落到中原, 融入了中華,開枝散葉。
Video Source 視頻源自:https://www.youtube.com/watch?v=dc24ElTwh4s     
歡迎到訪主網頁:
http://www.yaharise.com
 & 
http://man-child.com
 (English Site)其他相關題目:
https://www.youtube.com/watch?v=Zsx33

T
The Nestorian Stele is a 
Tang Chinese
stele
 erected in 781 AD that documents 150 years of history of early Christianity in China.
[1]
 It includes texts both in 
Chinese
and in 
Syriac
. The Nestorian Stele entitled 大秦景教流行中國碑 "Stele to the propagation in China of the luminous religion of 
Daqin
Some information about Christianity in China:
The growth has been particularly significant since the loosening of restrictions on religion by the People's Republic since the economic reform in the late 1970s. Religious practices are still often tightly controlled by government authorities. Chinese over age 18 in the PRC are permitted to be involved with officially sanctioned Christian meetings through the "China Christian Council", "Three-Self Patriotic Movement" or the "Chinese Catholic Patriotic Association".[4] Many Chinese Christians also meet in "unregistered" house church meetings. Reports of sporadic persecution against such Christians in Mainland China have caused concern among outside observers.[5] Today, the Chinese government acknowledges 14 million Christians in China, but it is believed that there are an additional 70 million not included in that figure.[6]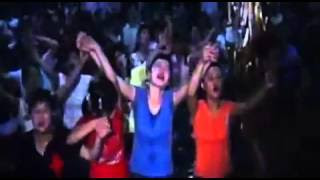 A Rare Look At Secret House Churches in China
How Many Christian In China 中國目前基督徒人數有多少?

There are 31 provinces, Municipalities and Administrative Regions in China (plus Hong Kong and Macau). We have provided estimates for every kind of Christian, for each city and county in China (2,371 in total.)

China         中国

POPULATION
CHRISTIANS
Total
Protestants
Catholics
Christians
Cities &
Census
Current Year
TOTAL
TOTAL
% of current
Province
Counties
2000
2011
TSPM

[1]

House church
PROTESTANTS
CPA

[2]

House church
CATHOLICS
TOTAL
Population
Anhui
78
58,999,948
64,711,143
2,833,821
5,730,882
8,564,703
255,939
416,093
672,032
9,236,735
14.27%
Beijing
15
13,569,194
14,882,692
95,094
416,715
511,809
92,620
67,567
160,187
671,996
4.52%
Chongqing
31
30,512,763
33,466,398
402,738
1,495,325
1,898,063
251,242
457,820
709,062
2,607,125
7.79%
Fujian
69
34,154,222
37,460,351
1,880,885
1,572,184
3,453,069
907,550
1,000,191
1,907,741
5,360,810
14.31%
Gansu
81
25,124,282
27,556,312
350,731
760,109
1,110,840
52,457
104,915
157,372
1,268,212
4.60%
Guangdong
98
85,225,007
93,474,788
821,469
2,641,122
3,462,591
298,409
489,887
788,296
4,250,887
4.55%
Guangxi
90
43,854,538
48,099,657
183,878
594,012
777,890
66,873
133,747
200,620
978,510
2.03%
Guizhou
82
35,247,695
38,659,672
634,815
1,100,325
1,735,140
99,734
199,468
299,202
2,034,342
5.26%
Hainan Island
19
7,558,518
8,290,183
104,523
454,675
559,198
3,648
7,295
10,943
570,141
6.88%
Hebei
149
66,684,419
73,139,471
866,018
895,462
1,761,480
1,284,146
2,609,988
3,894,134
5,655,614
7.73%
Heilongjiang
78
35,966,050
39,447,564
1,100,821
2,615,824
3,716,645
43,787
87,574
131,361
3,848,006
9.75%
Henan
127
91,236,854
100,068,581
5,255,503
8,905,007
14,160,510
200,801
401,601
602,402
14,762,912
14.75%
Hong Kong
1
6,509,645
7,139,779
n/a
n/a
523,132

[3]

n/a
n/a
454,090

[4]

977,222
13.69%
Hubei
78
59,508,870
65,269,329
661,945
1,668,102
2,330,047
97,469
194,938
292,407
2,622,454
4.02%
Hunan
101
63,274,173
69,399,113
724,483
1,393,905
2,118,388
77,896
155,793
233,689
2,352,077
3.39%
Inner Mongolia
89
23,323,347
25,581,047
256,508
1,315,757
1,572,265
256,035
512,069
768,104
2,340,369
9.15%
Jiangsu
73
70,188,617
76,982,875
3,060,435
2,613,611
5,674,046
415,793
623,690
1,039,483
6,713,529
8.72%
Jiangxi
91
40,397,598
44,308,085
1,040,720
1,528,433
2,569,153
163,940
327,880
491,820
3,060,973
6.91%
Jilin
49
26,702,191
29,286,963
406,650
1,418,390
1,825,040
92,494
184,989
277,483
2,102,523
7.18%
Liaoning
58
41,824,412
45,873,015
823,382
2,015,683
2,839,065
141,076
282,152
423,228
3,262,293
7.11%
Macau
1
504,635
553,484
n/a
n/a
10,627

[5]

n/a
n/a
17,158

[6]

27,785
5.02%
Ningxia
20
5,486,393
6,017,476
71,073
106,610
177,683
17,768
35,537
53,305
230,988
3.84%
Qinghai
41
4,822,963
5,289,826
45,175
218,964
264,139
6,207
12,413
18,620
282,759
5.35%
Shaanxi
96
35,365,072
38,788,411
863,441
1,726,883
2,590,324
272,723
561,174
833,897
3,424,221
8.83%
Shandong
110
89,971,789
98,681,058
1,501,822
2,727,555
4,229,377
286,521
573,042
859,563
5,088,940
5.16%
Shanghai
11
16,407,734
17,996,003
438,430
915,997
1,354,427
244,020
420,208
664,228
2,018,655
11.22%
Shanxi
107
32,471,242
35,614,458
501,480
1,624,428
2,125,908
258,661
517,322
775,983
2,901,891
8.15%
Sichuan
158
82,348,296
90,319,611
403,834
1,152,569
1,556,403
416,740
833,480
1,250,220
2,806,623
3.11%
Tianjin
13
9,848,731
10,802,088
62,171
87,377
149,548
113,422
136,106
249,528
399,076
3.69%
Tibet
73
2,616,329
2,869,590
0
1,236
1,236
7,221
706
7,927
9,163
0.32%
Xinjiang
87
18,459,511
20,246,392
144,310
682,314
826,624
10,867
21,735
32,602
859,226
4.24%
Yunnan
124
42,360,089
46,460,546
1,189,804
1,494,929
2,684,733
220,478
440,955
661,433
3,346,166
7.20%
Zhejiang
73
45,454,851
49,854,881
2,754,543
4,141,327
6,895,870
777,209
1,571,451
2,348,660
9,244,530
18.54%
Totals
2,371
1,245,979,978
1,366,590,840
29,480,502

[7]

54,015,712

[8]

84,029,972
7,433,746

[9]

13,381,786
21,286,780
105,316,752
7.71%Sorce