The Man Child of the Book of R...
1

Ministry of Aloahiym
2

The High Calling Of Your Life
3
Posted by Eyd & YahnEl | 0 Comments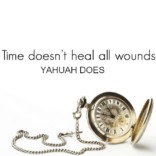 Are Any Of Them Right? By Sholiach Moshe Yoseph Koniuchowsky Are Any Of Them Right? Some of you have found that the true times of YHWH, angels, prophets and Temple Zadokite priests are Solar, with the stars as a second firm and sound witness. Congratulations that is the good news! You have heeded the warnings of Torah in Gen. 1:14-17 & Jubilees and no longer use...
Read More