The Man Child of the Book of R...
1

Ministry of Aloahiym
2

The High Calling Of Your Life
3
Posted by Eyd & YahnEl | 0 Comments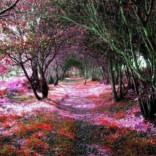 Prayerfully Arranged Marriage Written Date: Wed, 18 Feb 2009 The amazing story of  the " Answered Prayer " below reminds me of Ms Heloise in Asia (and others as well) who has been faithfully keeping me in her intercessory prayers for more than 17 years now (as of Feb 2009).  While reading the story, I am also impressed in my spirit that Eyd had divinely received his...
Read More
Posted by Eyd & YahnEl | 0 Comments
Jan 2010 . . . Open Vision on a Mountain Top   (Taken from Part 2 Vol 1 of the Man Child Book –Rev 12:5) http://man-child.com/wp-content/uploads/2013/08/3-1-2014-PDF-Part-2-Vol-1-Only-First-Draft.pdf While still visiting with the prayer group in Indianapolis, the entire group of seven of us left to attend a conference in Dallas, TX. During this time, Yahn EL had an...
Read More
Posted by YAH's Followers | 2 Comments
Dear All, In parchment Q392a, concerning the priestly service on the...