The Man Child of the Book of R...
1

Ministry of Aloahiym
2

The High Calling Of Your Life
3
Posted by Eyd & YahnEl | 15 Comments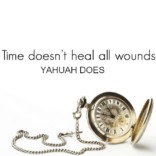 UPDATES  One of Last Two Qumran Dead Sea Scrolls Reconstructed, Deciphered, Throwing Light on Alternative Jewish Calendar By  JNi.Media     ON  : Calendar | The Jewish Press – JewishPress.com | JNi.Media | 5 Shevat 5778 – January 21, 2018 | JewishPress.com Are Any Of Them Right? By Sholiach Moshe Yoseph Koniuchowsky Are Any Of Them Right? Some of you have found...
Read More
Posted by YAH's Followers | 1 Comment
It has been a year, but I remember as it was yesterday. My husband Jerry had to work out of town and I had insisted that I would go with him because something just didn't feel safe.  We planned to leave early in the morning, when we were getting ready, Jerry said he just took a pain pill because he was in a lot of pain with his knee and I told him to lay down and I...
Read More
Posted by Eyd & YahnEl | 0 Comments

Guns, Lies and Forgeries: A Bible Story By Robert E. Reis   Once upon a time...